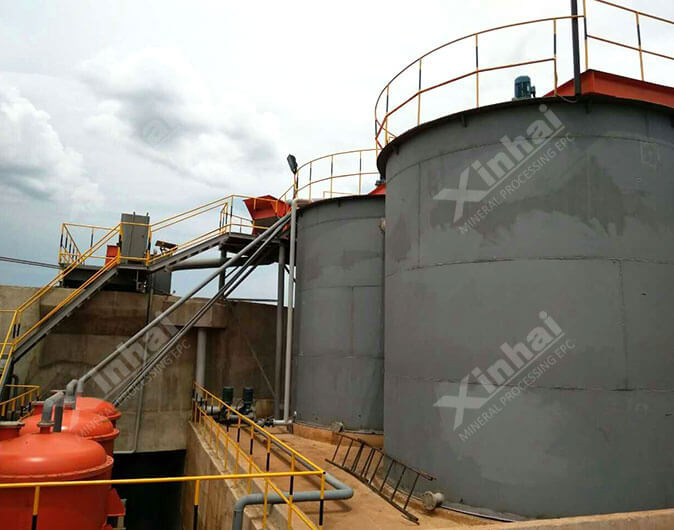 CASES
Tanzania 600t/d Gold Mineral Processing Plant
The disseminated gold grain size of the raw ore was extremely fine (monomer gold ≤30%; most gold particles <13μm) so that single gravity concentration is unable to recover such gold. To identify efficient and sound processes, Xinhai undertook the project of upgrading the original gravity concentration plant.

Xinhai Solution
01
Crushing and screening: in the principle of more crushing and less grinding, two-stage closed-circuit crushing was adopted to gain a particle size of ≤15mm;
02
Grinding and classification: two-stage closed-circuit grinding was adopted to gain a particle size of -200 mesh (90%). In the two stages of grinding, slurry pump and cyclone replaced conventional spiral classifiers, resulting in high efficiency, low power consumption and small investment. The water was mostly recycled and some gold was leached in advance.
03
Cyanide leaching and carbon absorption: slurry from the grinding process was thickened by upgraded thickener to gain a concentration of 40%, and then treated by the CIP process to effectively recover gold and silver under a large leaching rate.
04
Tailings dewatering by filter press: after the process of CIP, tailings containing NaCN was dehydrated by filter press, with filtrate recycled (regular treatment) and filter cake stacked in the tailings pond. Desorption electrolysis: high-temperature, medium-voltage and cyanide-free desorption electrolysis process was adopted, featuring high efficiency, fast speed, low power consumption and no hazards. Smelting: high-frequency furnace was used to produce crude gold ingots.
Project Result
The mixed ore has an Au grade of 5.86g/t, with a gold leaching rate of 91.64% and a carbon absorption rate of 99.00%.
Project Site