CASES
Inner Mongolia 700t/d Fluorite Mineral Processing Plant
The ore had a simple composition, primarily comprising fluorite, quartz and calcite. Major chemical components were CaF2 (28.30-87.49%, an average of 58.19%) and SiO2 (8.18-65.38%, particularly 25-38%, an average of 34.11%). The relationship between CaF2 and SiO2 was negative, which accounted for 92-95% of the total.

Xinhai Solution
01
Crushing and screening: jaw crusher, cone crusher and circular vibrating screen were adopted for coarse crushing, fine crushing and screening respectively. After crushing, the product size was -15mm.
02
Grinding and classification: grid ball mill and spiral classifier were adopted to gain a product size of -200 mesh (65%).
03
Flotation: one-stage roughing, one-stage scavenging and seven-stage concentration. SF flotation cell was adopted in roughing, scavenging and concentration. Middlings returned to the process in order, and concentrates and tailings were pumped to their own dewatering systems respectively.
04
Concentrates and tailings dewatering: thickening and filtering. The water content of final concentrates was less than 20%. Tailings were stacked in dry state, with a water content of less than 20%. Concentrates drying: due to the need of drying fluorite concentrates, the second-phase drying system was built on the basis of the original one. Indirect rotary dryer was used for drying, and the dried product was discharged via the original spiral conveyor to the package and air transport system.
Project Result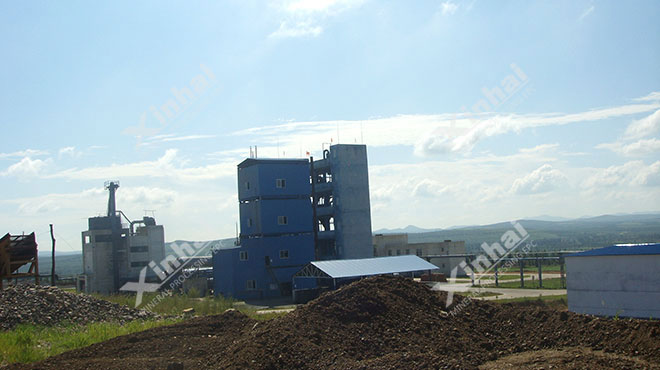 The grade and recovery of CaF2 concentrates were 97.78% and 83.1% respectively. Nearly 100,000 tons of fluorite powders were produced every year, indicating a better prospect for future profits. New jobs were created for local residents so that both economic and social benefits were achieved.
Project Site